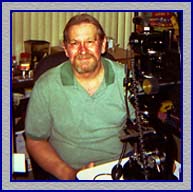 Making my home in Phoenix, Arizona, I have had a 40+ years love affair with photography. I started printing my own black and white prints as an 8th grader in elementary school and have, at various times since, worked as a freelance photographer, aerial photographer, forensics photographer, and as a custom darkroom technician for many professional photo labs in the Southwest. My photography career has been fulfilling and quite varied.
Currently I am a customer support specialist for a health insurance company and I am a staff member of the Nature Photographers Network Online Magazine.
Recently I have turned my attention to photomicrography. What a rich micro-universe there exists! I have restored a 1960's Nikon S-K microscope and upgraded the optics and now I spend hours enthralled with the views through my microscope. I have photographed everything from amoebae to micro-crystals. There is an endless abundance of subjects of which I never tire. I am currently engaged in self-publishing a calendar of my favorite micro-crystals. You can view more of my photomicrographs at On Closer Inspection.
--Tom Webster--